Grand Trunk Western Depot, Durand Michigan, MI, USA
GTW Railroad Passenger Freight Train Depot MI. Postcard Post Card
GTW GRAND TRUNK WESTERN RAILROAD
Passenger Train Station Diamonds Steam Engine Crossing
Durand Michigan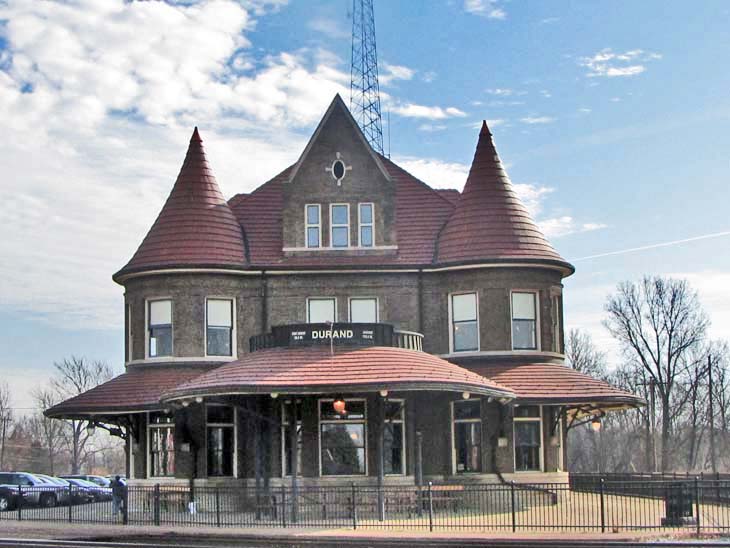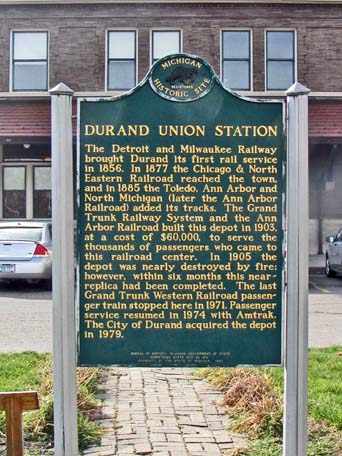 Date of Completion: October 1, 1903
Building materials: Bedford limestone and Missouri granite brick
Razed by fire: April 18, 1905
Date of Reconstruction: 1905 and 1906
Book: Where the Rails Cross: A Railroad History of Durand, Michigan. I. E. Quastler, (Coronada, Calif: R. & I. Enterprises, 2005)
Use in 2010: Amtrak station, home of the Grand Truck Western Historical Society and the Durand Union Station historical group.
State of Michigan Registry of Historic Sites: P24,769 Listed November 6, 1970
State of Michigan Historical Marker: Erected April 24, 1987
National Registry of Historic Places; Listed May 6, 1971


It sits at the junction of Canadian National Railway's busy mainline interchange of the Flint and Holly Subdivisions.
Additionally, Great Lakes Central Railroad and Huron and Eastern Railway operate near the station, and a freight yard used by all three carriers is located just north of it.

It is one of Michigan's most popular locations for railfans to visit.